Dinner is a treat for clean eaters when served with mouth-watering cilantro lime rice and freshly cooked salmon fillets. We love meals in bowls at Cali Yum, which is why our go-to dinner is a rice bowl! You can't go wrong with a rice bowl for dinner, whether it's this fiery cilantro lime salmon bowl, a Mediterranean vegan buddha bowl, or any other variation.
What Is A Rice Bowl?
A rice bowl is a well-balanced meal you can prepare in minutes with any type of rice. They consist of any source of protein, a vegetable, rice, and your favorite toppings.
They make a wonderful meal-prep recipe if you're looking to save money and time by prepping meals quickly and under budget.
Components of A Rice Bowl
Before we get started with our cilantro lime salmon bowl, let's go over the basic components of a rice bowl so that you can tweak the recipe according to your taste.
Rice: Cooked rice is the most evident component of a rice bowl! Rice of any kind can be used. Some of our personal favorites that will enhance the flavors of this recipe include fried rice, wild rice, brown rice, and white rice.
Vegetables: You can use any vegetable you love in grilled, roasted, or raw form. Cauliflower, spinach, roasted Brussels, roasted sweet potatoes, steamed broccoli are some of our favorites.
Protein: When it comes to rice bowls, almost any protein will suffice. We're using salmon in today's dish, but you can use pork, steak, turkey, chicken, or even beans and tofu.
Toppings: The world is your oyster when it comes to toppings. A homemade dressing, using varied sauces (such as bbq or teriyaki), nuts (including almonds, cashews, peanut, hazelnut, etc.), and fresh herbs (thyme, mint, basil, etc.) is good to go.
What You'll Need for Cilantro Lime Salmon Bowls (Serves 4)
1 thinly sliced avocado
4 cups cooked brown rice
4 salmon filets
1 minced garlic clove
2 teaspoon honey
2 tablespoon finely chopped cilantro (keep a bit more for serving)
1/3 cup lime juice
2/3 cup olive oil
3 red peppers sliced into strips
Lime wedges for serving
Freshly ground black pepper
Kosher salt
How to Prepare It?
Step 1
Preheat the oven to 400 degrees Fahrenheit. In a large baking tray, add one tablespoon of olive oil. Season bell peppers with salt and pepper and place them on the tray. Bake for 10 minutes in the oven.
Step 2
In the meantime, make the cilantro lime marinade by whisking together honey, cilantro, lime juice, olive oil, and minced garlic. Then take a large bowl, season the salmon with pepper and salt.
Next, pour almost 50% of the prepared cilantro lime marinade over the seasoned fillets until evenly coated.  Set aside the rest of the marinade to use later.
Step 3
Remove the peppers from the oven after 10 minutes and lay the fillets on top of them. Bake for another 15 to 20 minutes, until the salmon has cooked through and peppers are tender.
Step 4
To make the bowls, divide the rice amongst four bowls and top with salmon, peppers, avocado, and a wedge of lime. Serve with additional marinade on the side and garnished with cilantro.
Why Is Cilantro A Healthy Alternative?
Cilantro is a common herb that looks like a flat parsley leaf and is used all over the world. It boosts and enhances the flavors without the need for salt and seasonings.
This versatile herb plays a significant part in various recipes, including noodles, curries, salsa, guacamole, and even a few sauces, such as Argentina's chimichurri sauces.
Not only is it tasty, but the vibrant herb also has a plethora of culinary uses. Cilantro also boasts several health benefits that many people are unaware of. These include:
Relieves irritations on the skin
Helps prevent colon cancer
Prevents inflammation of the nervous system
Helps maintain a healthy menstrual cycle
Prevents food poisoning
Relieves digestive distress
Prevents infections of the urinary tract
Aids in the prevention of cardiovascular disease
Helps lower blood sugar levels
Reduces anxiety and enhances sleep
Helps prevent oxidative stress
Gets rid of heavy metal in your body
Why Should You Incorporate Salmon In Your Diet?
Salmon is one of the most nutrient-dense foods available. This delicious fatty fish is not only high in nutrients, but it may also help minimize risk factors for a variety of ailments.
It's also delicious, flexible, abundantly available, and has multiple health benefits. Here's why you should incorporate it into your diet if you haven't yet.
1.     Rich In Omega-3 Fatty Acid
Docosahexaenoic acid (DHA) and Eicosapentaenoic acid (EPA) are two long-chain omega-3 fatty acids found in salmon essential for the human body.
Farmed salmon contains 2.3 grams of long-chain omega-3 fatty acids in every 3.5-ounce (100-gram) serving, while wild salmon contains 2.2 grams.
These fatty acids have been linked to a variety of health advantages, including improving the function of artery lining cells, lowering the risk of cancer, lowering blood pressure,  reducing inflammation, etc.
You should eat at least two meals of salmon every week to satisfy your omega-3 fatty acid requirements.
2.     An Excellent Source Of Protein
Salmon is an excellent source of protein.  Protein assists in the healing of injuries, preserving bone health, and maintaining muscle mass throughout weight loss and as you age.
According to new research, your meal should contain at least 20–30 grams of high-quality protein. Fulfilling your requirements perfectly, a 100 serving of salmon contains 222-25 grams of protein.
3.     High In Vitamin B
Wild salmon includes folic acid, thiamin, pantothenic acid, riboflavin, vitamin B6, and niacin.  These vitamins help your body perform several functions, such as lowering chronic inflammation, generating and repairing DNA, helping in converting food into energy, and helping in preventing diseases.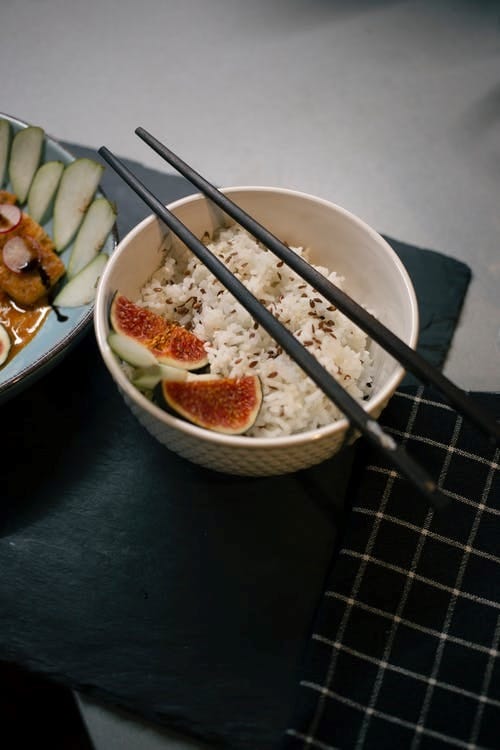 Tempted by this easy yet delicious cilantro lime salmon bowl healthy food recipe? Check out other healthy food recipes at Cali Yum's healthy food blog.
Our healthy food blog aims to offer a variety of savory and sweet recipes, including gluten-free Moroccan and gluten-free Mediterranean recipes packed with flavor.
Our blog is dedicated to offering creative ways to prepare regular meals. Connect with us today to fulfill your cravings for delicious gluten-free dishes and embrace the cooking enthusiast in you.