Chicken tagine – a rich and fragrant chicken stew is laden with complex flavors and zesty spices that might make you reminiscent of the kind of chicken stew you may eat at a local Moroccan mountainside café. Well, save yourself the plane ticket and make and savor this yummy dish at home. It's a classic Moroccan dish that uses a variety of spices, preserved lemons, onions, and olives.
It can be cooked in a real tagine, or you can simply roast the chicken in the oven. It all depends on the kind of equipment you have and what suits your preference. Either way, you'll be able to enjoy a delicious dish that's sure to become a particular favorite. It's a company-worthy yet easy-to-throw together dish that you can enjoy on a not too busy weeknight.
The word tagine refers to a shallow clay vessel with a cone-shaped lid in which the chicken is traditionally cooked. However, you don't need one to make it. You can use a large cast-iron braiser, a wide oven, or a heavy-covered skillet. While the traditional chicken tagine recipe features preserved lemons – a special Moroccan ingredient that can be difficult to find – you can use lemon zest or fresh lemons instead.
According to Moroccan tradition, you eat the chicken tagine directly out of the vessel. You use Moroccan bread to scoop up the chicken and sauce. Various side dishes like French fries, rice, and couscous work great with chicken tagine. This blog will discuss the recipe in detail and help you ace this Moroccan recipe in no time.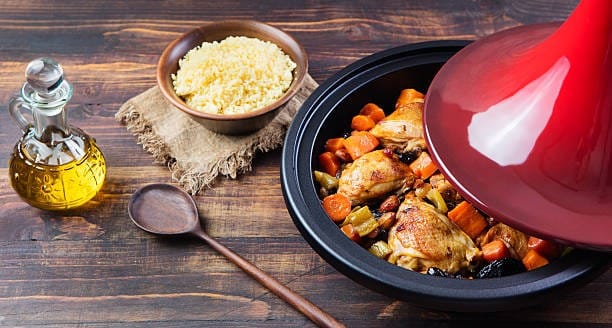 Recipe for Moroccan Chicken Tagine
Moroccan chicken tagine is a traditional Moroccan recipe of chicken pieces braised with spices, onion, garlic, olives, and preserved lemons. It's a stellar dish that can be served at fancy dinners or on a busy weeknight.
Prep time: Fifteen minutes
Cook time: Forty-five minutes
Total time: One hour
Servings: Serves four to six people
List of Ingredients for Moroccan Chicken Tagine
1 teaspoon paprika
1 teaspoon ground cumin
1/4 teaspoon cayenne pepper
1/2 teaspoon ground ginger
1/2 teaspoon ground coriander
1/4 teaspoon ground cinnamon
½ teaspoon turmeric
1 to 2 preserved lemons, quartered and seedless or lemon zest or lemon juice
5 cloves garlic, minced
1 whole chicken, cut into 8 to 10 pieces, skin removed
Salt and ground black pepper
2 tablespoons extra virgin olive oil
2 large yellow onions, halved and cut into 1/4-in-thick slices
2 tablespoons gluten-free flour (optional)
1-3/4 cups chicken broth
2 tablespoons honey
2 large or 3 medium carrots, peeled and cut crosswise into 1/2-inch-thick coins
1/2 cup Greek cracked green olives, pitted and halved (see note)
2 tablespoons chopped fresh cilantro leaves
1/4 teaspoon saffron threads, crumbled, optional
1 teaspoon smen, optional
Method for Cooking Moroccan Chicken Tagine
Step # 1: Preparing the Chicken
First things first, you need to marinate the chicken with spices. For this, you need to add and mix all the spices, including ginger, cumin, turmeric, paprika, cayenne pepper, ground coriander, and ground cinnamon. Also, add salt and pepper to taste.
Then, you need to zest the lemons and combine them with one clove of minced garlic and set in aside. Place the chicken pieces in a large bowl and season it with the spices and lemon and garlic mixture on both sides. Leave it to marinate for at least three to four hours. If time allows, it's best to marinate the chicken overnight.
Step # 2: Cooking in Tagine or Skillet
Add enough olive oil to the tagine or skillet to cover the bottom. Then proceed by adding the chicken and browning it from both sides. Then remove the chicken and place it on a platter. Next, start by adding onions to the same skillet or tagine and cook over medium to low heat for about fifteen minutes, until the onions are a golden brown color.
Once the onions are caramelized, add the chicken to the skillet again and place it on top of the onions. Add the olives and the remaining preserved onions while drizzling the remaining olive oil. Last, add the chicken broth and mix the ingredients well.
Cover the skillet or tagine and place it on low heat. Cook for about thirty minutes or until the chicken is done.
Once the chicken is done, transfer it to a platter or let it remain in the tagine (if you're using one). Scatter some chopped parsley and serve it with your favorite side dish.
Things to Remember
Whether you cook your dish in a skillet or a traditional tagine, it's best to cut a whole chicken into pieces as it's easier to marinate and will absorb the flavors more quickly. They are also easy to cook and serve.
You'll get a richer flavor if you marinate the chicken with the spice mix the night before.
The cooking time may vary depending on the size and the equipment you're using to cook the chicken.
Side dishes that work well with Moroccan chicken tagine include couscous, green beans with shallots, french fries, and rice.
Find the Best Gluten-free Moroccan recipes At Cali Yum
Looking for more gluten-free Moroccan recipes? Head over to our blog, Cali Yum, and learn more gluten-free recipes today. Our healthy food blog covers a range of cuisines, including Mediterranean and Moroccan gluten-free dishes. Reach out now and get to know more about what we have to offer. You can also visit our website for more insights into our offerings.