My homemade Gluten-Free Healthy Chicken Salami is so good and versatile that you may want to eat it for breakfast, lunch, and dinner! Not only is it a healthy recipe, but it also doesn't call for gelatin as most salami recipes do! It is perfect for cold cuts, on salads, with eggs, pasta, or your favorite cracker. 
I enjoy entertaining at home and hosting dinner parties with friends, so I tend to make a little too much when I make it. Sometimes friends or family drop in, so I like to have it on hand when guests arrive. I've also served it during holiday, birthday, and anniversary celebrations, and I never have any leftovers to take home!
I am a massive fan of having convenient and healthy foods at the ready. So, when I am busy or tired or don't feel like cooking, I can then take something out of the fridge, freezer, or pantry to heat up or eat quickly.
A range of foods and wines pair nicely with my homemade salami. I enjoy a crisp glass of white wine with fresh bread and cheese for this particular salami. When I have guests, I create a beautiful charcuterie board using my homemade salami, crackers, cheeses, sliced apples, and walnuts. It's lovely to share food with friends!
Salami Has a Past
Salami has an interesting background. In Ancient Rome, salami stems from a group of foods, salsum, which means salted in Italian. First, let's remember our ancient ancestors. Those who walked before Rome was built salted their meats to preserve them. Salting not only preserves the meat but helps keep bacteria from growing. In Ancient Rome, sausage was made with a combination of salt and chopped pork, which was then air-cured in a case.
All sausages like salami, soppressata, and other sausages belong to a category of air-cured pork meats, salumi insaccati, or incased. The meat is incased using pig intestines. The meat is usually pork, but there are varieties of sausages to select. Sausage has been made with other meats like wild boar and duck, but we are making salami with chicken!
The butcher profession was hard work and extensive business during Roman Times and the Middle Ages. The process of canning meat had not been invented yet, so salting was how people could keep their meat. Other countries like Turkey, Russia, and Hungary adopted their methods and meals, preparing sausages with the seasonings and spices available to them in their regions. 
To be a butcher was an art, but the butcher profession began to fade in popularity during the end of World War II.
After the demand grew for salami worldwide, it needed to be mass-produced, so it became a semi-finished salami to craft meals.
More Salami, Please
As I previously mentioned, salami is a very versatile meat. There are several meals to create in your kitchen with it. From pizza and pasta to cold cuts and salads, get creative and surprise your family and friends with your homemade salami creations!
I recommend heading to your neighborhood butcher for quality meats to make any salami. Then, once you've made your salami, try new and tasty recipes that fit into your lifestyle, budget, and dietary needs. For example, try these easy recipe ideas that go great with my Gluten-Free and Keto Cheese Bread Without the Cream Cheese.
Quick cold cut sandwiches with bell pepper, lettuce, tomato, and cheese
Toss with gluten-free pasta, olive oil, and parmesan cheese

Toss into a salad with your favorite vegetables

Serve as breakfast with eggs and fruit
Let's Make Salami
Gluten Free Chicken Salami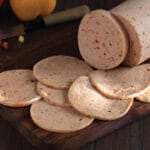 Food processor

Large pot with strainer

Aluminum foil

Parchment paper

Heat safe ramekins to use as a mold *I find the disposable ramekins are best for this but you can also use a 500 ml (0.5 l) plastic bottle
3 Garlic cloves
4 Eggs
4 tbsp Gluten free flour
1 tbsp Parsley
1 tbsp Cilantro
1 tsp Turmeric
1 tsp Paprika
1 tsp Ground Ginger
1/4 tsp Cayenne Pepper or red pepper flakes
1 5oz Can of Kalamata olives or green pickled olives diced
Pat-dry the chicken and cut it into small pieces.

Place the chicken, spices, eggs, and flour in a food processor to combine.

Blend until the meat is well grounded.

Add diced cilantro, parsley, and olives.

Mix well with a spoon to combine. *If you blend it, the chicken mixture becomes a greenish color. I prefer to hand-mix it.

Pre-heat a pot filled with water and a strainer and bring to a boil.

Place chicken mixture into the ramekins and fill 3/4 to leave room to rise when cooked.

Cover the cups with parchment paper and wrap tightly with aluminum foil.

Place the cups in the strainer, cover it, and cook for 25 mins.

Check the meat thoroughly for an internal temperature of 165 F.

Remove from cups once cooled and cut it to any size or shape you desire.
Chicken Salami Tips
 Dry chicken entirely before placing it in the food processor; otherwise, the meat mixture will be very loose.
Use thick aluminum foil only to avoid any leakage while boiling the salami.

Let the salami cool down completely before cutting.

Store in the freezer in an airtight container (freeze for up to a month).
 ENJOY!!
Thank you for visiting Caliyum.com, where you can find healthy comfort food that's easy and delicious. Please check back often for more recipes!